Automated accounting software should not just include tools and solutions for accounting. It should allow business owners to leverage accounting automation by integrating various business functions under a single platform. For this very reason CAs, CPAs, or any accounting business owner should look up software packages offering integrated business intelligence tools that help manage other aspects of the accounting business as well.
Here's a curated list of what to look for when you decide to purchase an accounting automation software or an ERP system for your financial accounting business.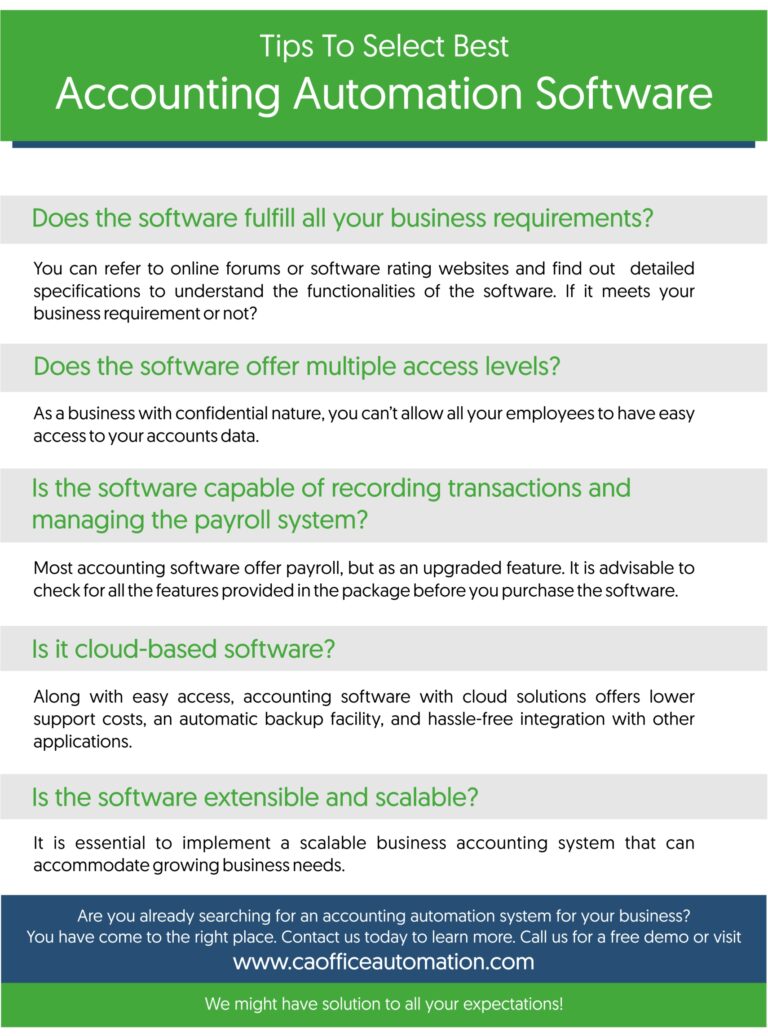 1. Does the software fulfill all your business requirements?
Before taking the final decision of purchasing the software, make sure if the accounting software will be able to fulfill your business requirements or not. If you still have a doubt, you can refer to online forums or software rating websites and find out detailed specifications to understand the functionalities of the software. For example, you can visit capterra, or software advice to know more
2. Does the software offer multiple access levels?
This should be discussed without fail. It is best to check whether you will be able to provide different data access levels for owners, managers, employees, and other authorities. As a business with confidential nature, you can't allow all your employees to have easy access to your accounts data.
3. Is the software capable of recording transactions and managing the payroll system?
Although today almost every accounting platform is capable of recording transactions, not many systems are equipped with payroll management.
Most accounting software offer payroll, but as an upgraded feature. It is advisable to check for all the features provided in the package before you purchase the software.
4. Is it cloud-based software?
We will discuss the benefits of cloud systems in a separate article. Having a cloud-based accounting system provides the freedom to work from anywhere with the option of remote access. Along with easy access, accounting software with cloud solutions offers lower support costs, an automatic backup facility, and hassle-free integration with other applications.
5. Is the software extensible and scalable?
All businesses tend to have a scope of expanding with time. Thus, it is crucial to implement a scalable business accounting system that can accommodate growing business needs. Scalable software allows businesses to add new users as and when they expand. Wherein, the extensible feature allows users to purchase and integrate new add-on applications as per the business needs.
Finding perfect accounting automation software for your business is not an easy task. Once you invest your time and money into one accounting system and have incorporated it into your workflow, it will be very difficult to migrate to another system after some time.
So, it's always better to spend more time considering various aspects of the software before the purchase to save frustration at a later stage. Evaluate your accounting needs thoroughly, prioritize features based on those needs, and choose accounting software that offers the features you require for the best accounting experience.
Are you already searching for an accounting automation system for your business? You have come to the right place. Contact us today to learn more. Call us for a free demo or visit www.caofficeautomation.com
We might have a solution to all your expectations!